Fractures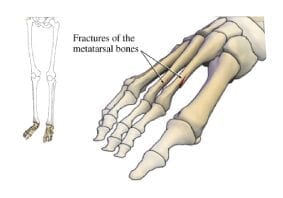 A podiatrist, like myself, is trained to handle almost all conditions concerning the foot. Not a week goes by in my office that someone does not come in with some sort of broken bone. If you feel you have broken a bone in your foot please seek medical attention immediately.
Although it is true that some fractures do not require much care, it is also true that patients who put off the care of a fracture could have trouble getting the fracture to heal. The process is usually as simple as getting x-rays (in office), diagnosis and treatment for the particular type of fracture present. Treatments range from splinting, protective shoe, walking cast and sometimes surgery. Yes, sometimes a fracture requires fixation using screw, pins and plates!
Signs of a possible broken bone in the foot are:
Pain when walking.
Bruising.
Swelling.
A change in foot or toe shape.
Occasionally, we have a patient come into the office of East Texas Foot Associates with some of these signs but with no history of an injury or fall. Many times x-ray reveals that they have a fracture in their foot and they were not suffering with much pain. This particularly happens in patients with weak bones or osteoporosis. Please take these signs seriously and hopefully we can get you on the road to recovery as quickly as possible.
PLEASE NOTE:
The information contained in this article is not intended to provide advice for individual problems, nor to substitute for professional advice or care from a physician. For answers to specific questions concerning your personal circumstances, you should consult your physician directly.